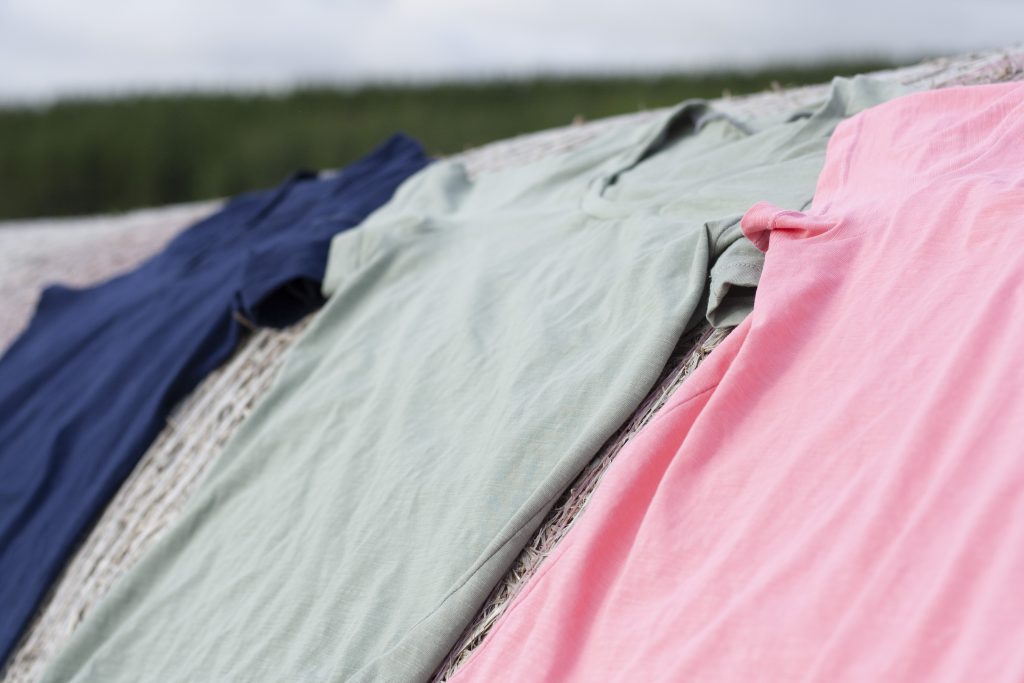 A long time ago, one of my favourite shirts was a slub cotton t-shirt, so when I saw that the Fabric Snob started carrying slub jersey, I knew I needed to get my hands on some. I ordered three 1m cuts the day it was listed for sale and when the fabric arrived, I had another question: What should I make?
With a closet light on basics, I decided what I really needed were t-shirts. To make a simple project a little more fun, I thought why not compare three different free t-shirt patterns! I asked around and decided to make the Greenstyle Creations Green Tee (free with code in their FB group), the Deer and Doe Plantain and the Buttons and Bibs Elemental Tee (free if you subscribe to their newsletter). What I ended up with were three different, but fantastic wardrobe staples.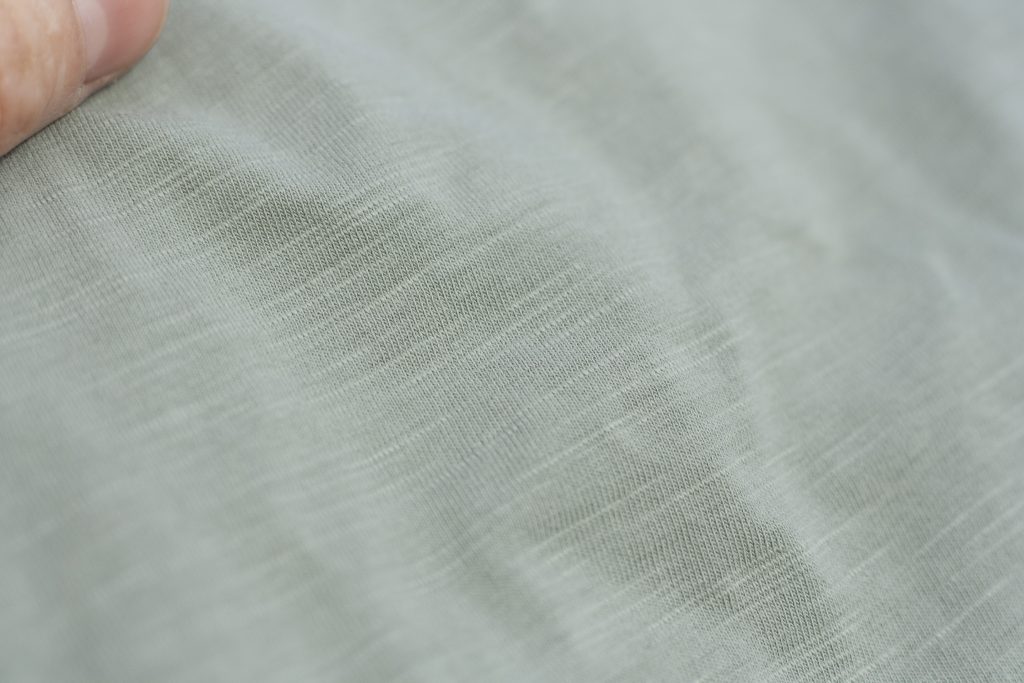 If you want to see three free tees go head-to-head, read on!
Elemental Tee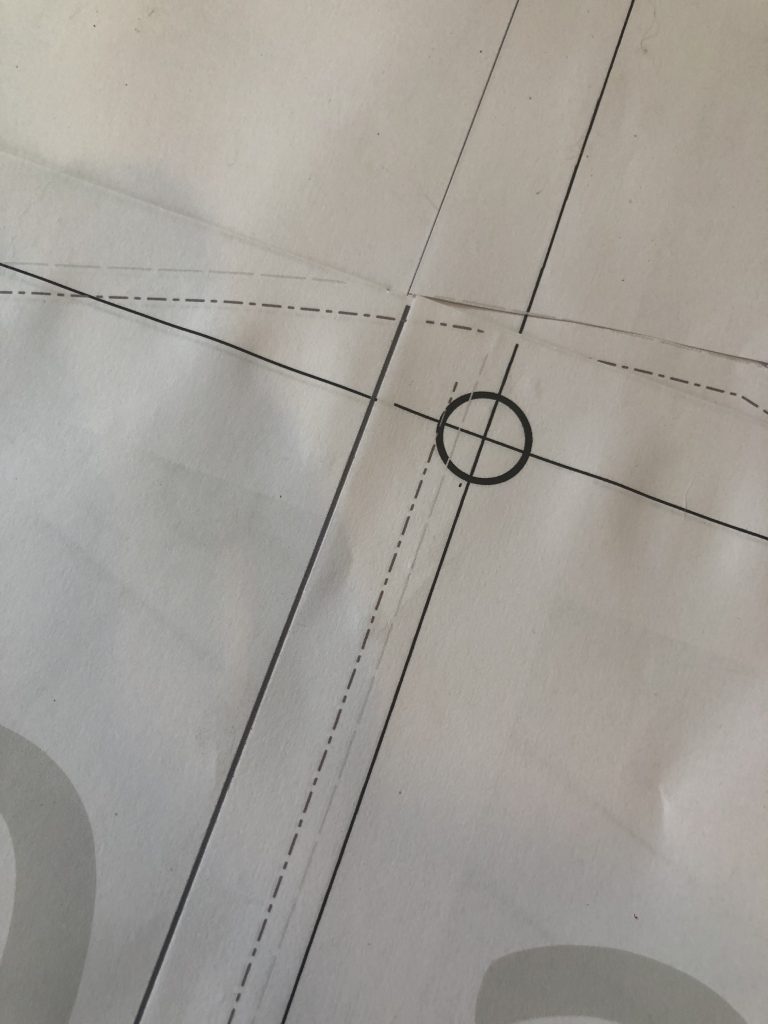 First impressions: The Elemental Tee came highly recommended and I ended up making it first. This was my first B&B pattern and I was really impressed with how easily it went together. I also really liked that all the measurement points were marked on the pattern. While I didn't grade, with the bust, waist and hip points clearly marked, grading would have been a breeze! The pattern also include a full bust piece, something busty sewists would surely appreciate.
Final thoughts: This is a really nice fitted t-shirt, with a nice scoop neck (there is a crew neck option as well). I consider this a bit more of a layering shirt and with winter coming, I know it'll get a ton a wear!
I'm 5'8″ with most of my height in my torso. I didn't add any length, but seeing the pictures, I could have added a little bit. The great thing about me-made, from pre-washed, high quality fabric is that there isn't much shrinkage, so I'm not overly concerned.
Green Tee
First impressions: I was really excited to make the Green Tee because I've always loved v-necks, but been too much of a chicken to try one. The paper pattern went together nicely, though didn't have quite as many guides and marks as the Elemental. I found the instructions for the v neck were sufficient and I managed to get a passable result, after redoing my basting stitches (which is what basting is for!). I think there are probably more detailed, hand holdy instructions out there, but I also feel GS patterns aren't aimed at real beginners.
I have made a few GS patterns (a few of them are my favourites!) and I think if you want to dip your toe into this company, the Green Tee is a great representation of what you can expect.
Final thoughts: The Green Tee pattern is much loved among sewists and it's easy to see why. It has a nice relaxed fit that can be either dressed up or down and I really like the v neck option (it also comes in a crew neck)– This pattern is a real closet staple. Like with the Elemental, I could have added a little more length and probably will next time. I can't wait to make another and hopefully really nail that v!
Plantain
First impressions: D&D has some very popular patterns and I've really liked the couple that I've made. I found the Plantain paper pattern itself less easy to put together than the other two, but I really liked that it had more notches, in particular on the neckband, which is my all-time favourite thing for a pattern to include!
Final thoughts: I was a little hesitant about this one because I don't usually love swing style shirts, but I figured I'd give in a go. I think the designers really nailed the fit and flare to make it not look too sloppy and it's a really flattering cut. I have always found I needed to added length to D&D patterns and I added an 1″ to this one.
The pattern also includes a longer sleeved option, with elbow patches, which I can't wait to make! Unlike the other two, it only has one neckline option.
Overall Thoughts
I really liked all three shirts and I certainly plan to make all of them again! They all serve slightly different situations and honestly, I would pay for any of them. I'll admit that once the photos were over I did keep wearing the Green Tee, thought partly because I stacked the deck in its favour, making it in my favourite colour.
I also really enjoying sewing with the slub jersey. It's not quite as structured as regular cotton lycra, but not as drapey as something like bamboo. I also really like the variegated colour in the knit, I think it makes it look a little richer and less flat. I'm always happy to find something a little visually interesting, but still at the price of solids!
All in all, this was a super fun project and I can't wait to wear my new shirts!